Vanuatu launches the World's First Sustainable Citizenship by Investment Program
Port Vila, Vanuatu, 25 October 2023 – With the launch of an investment-linked Citizenship Program in the coconut bio-fuel sector, Vanuatu is aiming to bolster the country's sustainability efforts in support of its ambitious 2030 carbon net zero goals.
Vanuatu, a Pacific Islands nation, has unveiled one of the world's most ambitious climate adaptation policies, committing to achieve 100% renewable energy in electricity generation by 2030, along with ambitious targets for addressing loss and damage caused by climate change.
The announcement of a Citizenship Program that generates funds for direct investment into renewable energy underscores Vanuatu's determination to make a further significant impact on the global stage in the realm of climate action. This innovative initiative marks the beginning of Vanuatu's journey to drive climate financing in support of its 2030 Net Zero Goals through leveraging the country's already successful citizenship by investment program.
At just under 3 hour's flight from Australia and comprising 80+ islands, Vanuatu is regularly placed in the "Happy Planet Index" (HPI) as one of the happiest countries in the world.
The CIIP investment program provides a pathway for international investors to be granted Citizenship in Vanuatu in return for an investment into Vanuatu's sustainable economy. Starting at USD138,000 (inclusive of all fees) for up to four family members on one application, the "CIIP – CNO Future Fund" option generates direct investment into a segment of Vanuatu's economy singled out in the Government's Low Emission Development Policy (2022) as being key towards reaching its commitments to be carbon net zero in electricity generation by 2030.
With the aim of attracting a minimum of 120 applicants a year, the CNO Future Fund is committed to generating profits by curating a diversified investment portfolio focused on enhancing and growing local CNO products and sectors. The goal is to reduce the dependency on imported fossil fuels for electricity generation.
With strategic investments, the CNO Future Fund intends to boost CNO production to fulfill the 17M liters annual supply contract, which is needed to supplant the currently used fossil fuels in particular for electricity generation. There exists a substantial domestic bio-fuel demand that can be met by doubling the current CNO production in its initial phase.
Investors into the CNO Future Fund under the CIIP become eligible for Vanuatu Citizenship and a passport which in addition to providing an almost tax-free domicile, offers visa-free or visa-upon-arrival to over 100+ countries throughout Asia, the Americas, Africa, the Middle East, Oceania, and the Caribbean. A long-term visa to Australia is also available via an e-visa application process.
As investors can include their spouses and children, this investment is suitable as an option to secure a family's future with Citizenship of an ecologically pristine, crime-free, and peaceful haven. Vanuatu citizenship is for life and can be passed to future generations. There is no minimum residency or language requirement and as the only citizenship program to operate in the Asia Pacific region, Vanuatu comes as a well-received citizenship-by-investment destination with multiple advantages.
Robin Kapapa, Chairman of the Vanuatu Citizenship Commission commented, "Channeling foreign investment through the country's well-established citizenship program is a timely innovation by the Vanuatu government, enabling the country to attract a new class of investors from across the world and create a stratum of commited and long-term foreign direct investment (FDI) into Vanuatu's circular economy. With this, we can demonstrate the real value-add of Citizens through our CIIP investment-linked program."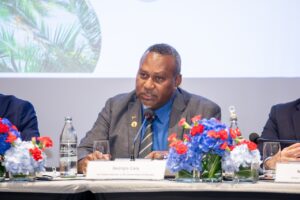 "Having the privilege to introduce the CIIP – CNO Future Fund is a moment of immense pride for me. I deeply believe in the potential of this initiative. It represents not just fiscal growth, but a transformational step towards inclusive societal betterment in Vanuatu. Every stratum of our society stands to gain from this visionary endeavor, reaffirming our commitment to holistic and sustainable progress," commented Mr. Daniel Agius, COO for VIMB.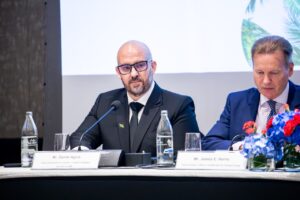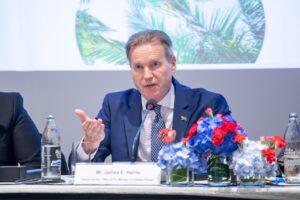 Operating internationally since 2017, the Vanuatu Investment Marketing Bureau (VIMB) has earned a prominent position among professional service providers in Vanuatu. With headquarters in Vanuatu and additional offices in Port Vila, Singapore, Dubai, and London, VIMB is designated by the government as an agent for Vanuatu's citizenship by investment program, contributing significantly to the country's ongoing development.
In summary, the Vanuatu investment-backed Capital Investment Immigration Program (CIIP) is the first sustainable citizenship program in the world. It blends perfectly the attributes of Vanuatu as an attractive option for second citizenship, with a compelling investment opportunity in Vanuatu's ambitious goals to be a sustainable hub and role model for the entire Pacific region.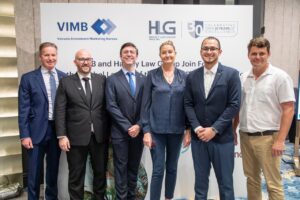 About Vanuatu Investment Marketing Bureau (VIMB):
Vanuatu Investment Marketing Bureau (VIMB) is a prominent professional services company, internationally operating since 2017. It is a government-designated agent for Vanuatu's citizenship by investment program. Through its extensive international network and collaborations with government bodies, non-governmental organizations, and the private sector, VIMB is at the forefront of Vanuatu's efforts to secure international climate finance, positioning the country as a sustainable development hub for the South Pacific region. VIMB is actively involved in raising climate finance to support Vanuatu's 2030 Net Zero Goals and sustainable development initiatives. Learn more at htps://vimb.vu/.